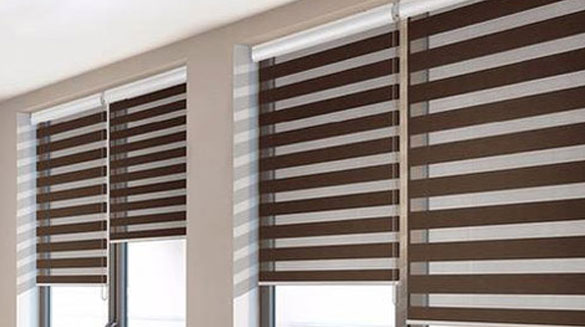 Introducing Zebra Shades:
Welcome to the world of Zebra Shades, where cutting-edge design meets unparalleled functionality. These innovative window treatments are the perfect blend of style and practicality, offering a refreshing twist on traditional roller shades and horizontal blinds. Zebra Shades have quickly become the go-to choice for homeowners seeking to enhance their living spaces with modern sophistication and seamless light control.
Elevate Your Living Space:
With Zebra Shades, you can transform any room into a captivating sanctuary. The alternating bands of sheer and solid fabric enable you to effortlessly adjust the natural light entering your space, creating the perfect ambiance for any occasion. Embrace the delicate diffusion of light through the sheer bands or achieve complete privacy by aligning the solid bands. Enjoy stunning views of the outdoors while maintaining the comfort and seclusion of your interiors.
Versatility at Your Fingertips:
One of the most appealing features of Zebra Shades is their unparalleled versatility. Whether you want to bask in the gentle glow of daylight or create a cozy, dimly lit atmosphere, these shades cater to your desires. Ideal for living rooms, bedrooms, nurseries, or even home offices, Zebra Shades give you complete control over the mood and comfort of your space, ensuring a seamless blend of functionality and style.
Energy-Efficient and Eco-Friendly:
Zebra Shades not only enhance the aesthetics of your home but also contribute to energy efficiency. By harnessing natural light during the day, you can significantly reduce your reliance on artificial lighting, leading to lower energy consumption and a smaller carbon footprint. Embrace sustainability while enjoying the benefits of a well-lit and eco-friendly living space.
Unleash Your Style:
At our Zebra Shades emporium, you'll discover a stunning array of colors, patterns, and textures to suit any decor theme. Whether your style is classic, contemporary, or eclectic, our collection has something for everyone. Create a statement piece or blend the shades seamlessly with your existing interior design. The possibilities are endless, and your creativity knows no bounds.
Why Choose Zebra Shades from Us?
At Allied Shades, we take pride in providing top-quality Zebra Shades that combine innovative design with enduring craftsmanship. When you choose our Zebra Shades, you benefit from:
Premium Quality: Our shades are crafted using the finest materials, ensuring durability and long-lasting beauty.
Tailored to Perfection: We offer customization options to fit any window size or shape, guaranteeing a flawless fit for your home.
Expert Installation: Our team of professionals will install your Zebra Shades with precision and care, making the process stress-free.
Competitive Prices: We believe that elegance should be accessible to all, which is why our Zebra Shades come at competitive prices.
Experience the Zebra Shades Difference:
Are you ready to elevate your living space with the exquisite charm of Zebra Shades? Unleash the potential of your windows with our exceptional collection. Discover the perfect balance of style and functionality that Zebra Shades bring to your home. Contact us today and embark on a journey of transforming your living spaces into captivating havens of elegance and versatility.